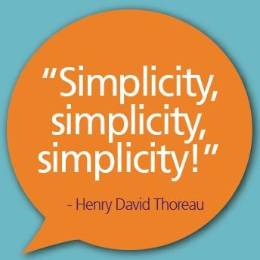 Today is the 200th anniversary of Henry David Thoreau's birth on July 12, 1817. The fondness and nostalgia his name evokes are undeniable. National Simplicity Day was created many years ago to commemorate his birthday each year.
But romantic notions of Thoreau's retreat into nature don't stand up to scrutiny. While his conclusions may be valid, his description of the circumstances which led to them is demonstrably false.
The James Frey of his time, Thoreau passed off fiction as memoir. Unlike Frey, he was never called to account by the 17th-century equivalent of Oprah.
Henry David Thoreau, author, ersatz ascetic, armchair philosopher and navel-gazing misanthrope, was a consummate bullshit artist.  Here's what led us to this unpopular opinion.
Thoreau famously went to live in a cabin in the woods, the better to ponder life without the inconvenience of other people and the irritations of everyday, well, life.
In Walden: or, A Life in the Woods, he wrote, "I frequently tramped eight or ten miles through the deepest snow to keep an appointment with a beechtree, or a yellow birch, or an old acquaintance among the pines."
Thoreau certainly could turn a phrase; many of them clog the arteries of inspirational sites and satisfy the sweet tooth of quote-mongers who reverently offer them up on posters, mousepads and coffee mugs.
He neglected to mention that the area was bustling with people year-round. A commuter train passed nearby. He hosted parties. He lived a twenty-minute walk from his parent's house and made the trip several times a week to enjoy his mother's cooking.
The man who advised his readers to eat only one meal a day to avoid indulging base appetites was visited by his mother and sisters at least once a week to bring him food, tidy up the cabin and clean his laundry.
Exhortations to simplify one's life can be helpful, but they often mask disdain and smug superiority. Thoreau reminds us of the intrepid explorer in a documentary, ostensibly forging a path trodden moments before by the cameraman walking backward in front of him.
Have a happy National Simplicity Day but if you can't keep it simple, don't worry: you're in good company.

https://magicksandwich.org/wp-content/uploads/2008/07/Sandwichwithhands.png
251
250
kathcom
https://magicksandwich.org/wp-content/uploads/2017/07/Magick-Sandwich-header.png
kathcom
2017-07-12 14:16:34
2020-01-03 03:00:02
Henry David Thoreau, Beloved Bullsh*t Artist