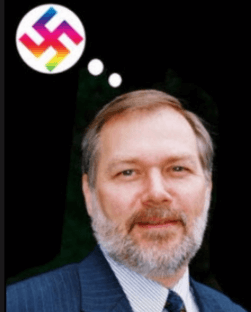 Update: Nearly 13 years ago, I named Scott Lively Top Douchebag on Life without Feck, my blog later subsumed by Magick Sandwich. Back then, he knocked Mark Williams off the pedestal. Williams dropped off the map after being kicked out of Tea Party Express because he wrote a racist blog post. Was he a proto-victim of cancel culture? If so, good riddance.
Isn't it funny how perspectives change? It could be argued that the MAGA Republican faction is the deformed progeny of the Tea Party. On the other hand, the Tea Party seems quaint by comparison in our post-insurrection hellscape.
Well, stand back and stand by: Though we may have reached Peak Douchebaggery in 2023, Scott Lively still stands tall, long after publishing The Pink Swastika: Homosexuality in the Nazi Party.
After wallowing in this guy's wretchedness for a post that would reach tens of readers, I was feeling a little, oh, I don't know, pissed off, so I had some childish fun with Mr. Lively's Wikipedia page, sprinkling into his bio things like, "He enjoys butt stuff in the afternoon." Unfortunately, my edits are gone.
But this guy hasn't gone away. I'm sure he's proud to be branded an extremist by the Human Rights Campaign, Southern Poverty Law Center, and other groups. He has fought to pass anti-gay legislation in Latvia and Uganda and publicly praised Vladimir Putin for criminalizing "gay propaganda." What a guy.
Did I mention he's a pastor? He says has changed his focus from persecuting gays to spending more time with his flock in Abiding Truth Ministries, his tax-exempt church. Its website is appropriately named atmchurch.org, since Lively's parishioners are his living ATMs.
And now, here is my inelegant segue into my original post, already in progress:
I first became acquainted with Pastor Scott Lively, president of "Defend the Family" and co-author of The Pink Swastika, on July 28, 2010, when he appeared in a segment of The Daily Show with Jon Stewart.
Pastor Lively told Jason Jones, "Open homosexuals are distinct from everybody else, men and women, in being exceptionally brutal and savage….Adolf Hitler used homosexual soldiers because they were more savage than natural men," adding, "they didn't have the restraint a normal man has. It was easier for them to do some of the terrible things that the Nazis did."
Lively told Jones he wishes this cup could be taken from him:
"It's not easy to be a person who tells the truth when a large part of the population doesn't want to hear it. Frankly, I wish I'd gotten a different assignment….I woulda loved to just been hanging out on the beach someplace. But instead I got stuck with dealing with homosexual Nazis."
Researching Pastor Lively, I discovered more interesting nuggets about Hitler and his cronies. The initial meeting of what would become the Nazi Party occurred in a gay bar. Each young Brownshirt was matched up with a homosexual male adult to initiate him into the league of gay Aryan supermen.
How to explain the extermination of gays by the Third Reich? Lively has a simple answer. "The Nazis did persecute homosexuals to distract public attention away from their homosexuality."
I was shocked at the number of sites recommending The Pink Swastika as a source of well-supported historical facts being suppressed by gay activists and even by the National Holocaust Museum. The book is now in its fourth edition due to nice Christian groups all over the Internet plugging it almost as hard as they peddle the Almighty. [Note: I'm unsure what edition it is on now, but I found someone selling the 5th edition paperback on Walmart.com. I shudder to think what content Google will serve me now.]
Then it all started to make me ill. WWJB, people? What would Jesus blog? I'm pretty sure he wouldn't take to the Web in support of a book that advocates murdering homosexuals. I'm not talking about the Nazis this time: I'm referring to Pastor Lively's book, sermons, and life's work.
"Pastor,"–because quotes should flank that honorific like traffic cones–you seem every bit as brutal and savage as the fantasy you promote as truth. Far be it from me to suggest that you tell this story to the next guy you see with a swastika tattoo. I'm sure he'd enjoy acquainting you with your feminine side.
But that wouldn't be very Christian of me, would it? Not that I'm Christian; I'm not. But I have a conscience. Since you most likely believe in an afterlife, allow me to paint you a picture. Fire. Brimstone. You, servicing Satan's balls for eternity. (I hear he swings both ways. You got a problem with that?) Bon appetit!
More douches:
Feckless Douche of the Week: Mark Williams
Feckless Douche of the Week: Rush Limbaugh

https://magicksandwich.org/wp-content/uploads/2010/08/fecklessdouchescottlively.png
312
251
kathcom
https://magicksandwich.org/wp-content/uploads/2017/07/Magick-Sandwich-header.png
kathcom
2023-03-09 16:00:00
2023-03-09 20:52:36
Feckless Douche of the Week: Scott Lively and his Pink Swastika