Rush Limbaugh – Douche of the Week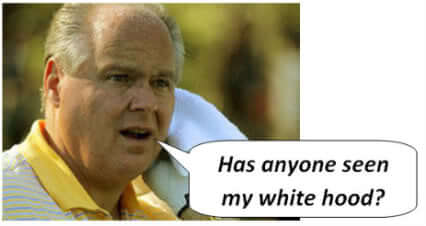 It's easy to say that we should stop paying attention to Rush Limbaugh, that by repeating his hateful speech, we are keeping him on the national stage. If you believe that, then I've got news for you. A lot of people listen to him and he's not going away. His rhetoric needs to be dragged into the light and exposed as the stinking garbage it is. Here are a few smelly bits from his radio show:
Regarding Kanye West's rude behavior toward Taylor Swift at the VMAs, Limbaugh said Obama was "probably just jealous" of Kanye's communication skills when Obama called him a "jackass."
Responding to police claims that an attack on a white student by black students on a bus was not racially motivated, Limbaugh said:
I think the guy's wrong. I think not only it was racism, it was justifiable racism. I mean, that's the lesson we're being taught here today. Kid shouldn't have been on the bus anyway. We need segregated buses — it was invading space and stuff. This is Obama's America.
He also talked about how happy he is that "Obama's failing," that it's what he's wanted all along. He joked that on Monday Night football, whenever Tom Brady said "hut" it made him think of Obama's family in Kenya, and speculated that Obama doesn't help his family there because his "half-white side" is racist. Then he dropped this piece of philosophical excrement:
If homosexuality being inborn is what makes it acceptable, why does racism being inborn not make racism acceptable? I'm sorry — I mean, this is the way my mind works. But apparently now we don't choose racism, we just are racists. We are born that way. We don't choose it. So shouldn't it be acceptable, excuse — this is according to the way the left thinks about things.
Why does anyone listen to this asshole? Apparently, this is what passes for revolutionary, patriotic thought in his fans' minds. This would be laughable if people didn't hang on the buffoon's every ignorant word. It's the Gospel of Saint Hate.
We've had a lot of celebrities die this year. Rush's ample adipose tissue must hold a pharmacy's worth of Oxycontin but the guy just won't overdose. If only he would learn the pleasures of autoerotic asphyxiation without the safety measures. It would take an awfully strong closet rod to hold him up. Start researching fine hotels and I'll get the belt.
More about Rush:
Listening to Limbaugh
Stop Picking on Rush Limbaugh!

https://magicksandwich.org/wp-content/uploads/2009/09/rushlimbaughlifewithoutfeck-1-1.jpg
226
426
kathcom
https://magicksandwich.org/wp-content/uploads/2017/07/Magick-Sandwich-header.png
kathcom
2009-09-18 13:30:00
2020-12-18 22:23:02
Rush Limbaugh – Douche of the Week