Stop Picking on Rush Limbaugh!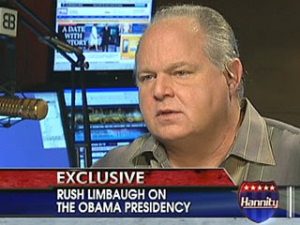 On Wednesday, January 21, Rush Limbaugh struck a blow for freedom and truth. While others cowered like toadies of the new administration, he spoke truth to power, saying:
I hope he fails.
To be fair, the full quote is this:
So I shamelessly say, no, I want him to fail, if his agenda is a far- left collectivism, some people say socialism, as a conservative heartfelt, deeply, why would I want socialism to succeed?
See, that's not so bad, is it? He's qualifying his desire for the President (and by extension the U.S. government and all its citizens) to go down in a smoking pile of wreckage.
As he told Sean Hannity of FOX, he was just saying what everyone was thinking. He then chastised Republicans who've "drunk the Kool-Aid." (Will that beloved drink ever live down the whole Jim Jones thing? Talk about a PR nightmare.)
We're witnessing racism all this week that led up to the inauguration. We are being told that we have to hope he succeeds, that we have to bend over, grab the ankles, bend over forward, backward, whichever, because his father was black, because this is the first black president.
Limbaugh exposes the outrage of Obama's not having the decency to have two white parents. Then again, I'm fairly sure that the press and those on both sides of the aisle suffered similar humiliation when forced to cheer for Obama's predecessor. I imagine that must have felt like having Bozo the clown give one an enema.
In keeping with Mr. Limbaugh's bracing honesty, I respectfully express to him my own heartfelt wish:
I hope you OD, you bloated pill-popping parasite, you weeping sore on the ass of humanity.
Related post:
Listening to Limbaugh

https://magicksandwich.org/wp-content/uploads/2009/01/rush-on-hannity-e1499617027942.jpg
225
300
kathcom
https://magicksandwich.org/wp-content/uploads/2017/07/Magick-Sandwich-header.png
kathcom
2009-01-31 06:01:00
2020-12-18 22:23:01
Stop Picking on Rush Limbaugh!