Colin Powell has endorsed Barack Obama. Of course, Rush Limbaugh couldn't keep his stupid mouth shut about it. He wrote the following to Politico's Jonathan Martin:
Secretary Powell says his endorsement is not about race… OK, fine. I am now researching his past endorsements to see if I can find all the inexperienced, very liberal, white candidates he has endorsed. I'll let you know what I come up with.
How about this, Rush? An open mind might think that Powell sincerely believes that Obama will be a better president. Perhaps his experience with the Bush administration makes him more informed and thus more wary of a McCain win. If you want to get nasty about it, maybe he's trying to wash off the stink of failure that's all but ended his own political career; maybe he regrets his unearned loyalty to Dubya.
Perhaps it was Powell's last flexing of political muscle, an eloquent endorsement of change or at least its possibility. Here's a short excerpt:
…I'm also troubled by…what members of the party say, and is permitted to be said, such things as, 'Well you know that Mr. Obama is a Muslim.' Well, the correct answer is, 'He is not a Muslim, he's a Christian, he's always been a Christian.'

But the really right answer is, 'What if he is? Is there something wrong with being a Muslim in this country?'

The answer's 'No, that's not America.'

Is there something wrong with some 7-year-old Muslim American kid believing that he or she could be president? Yet I have heard senior members of my own party drop the suggestion he's a Muslim and he might be associated with terrorists. This is not the way we should be doing it in America.
Then here comes this ham-fisted dickhead to throw his weight around. Should it matter? No. But it does. He opens the door for people like Pat Buchanan or George Will, who works hard to sound erudite and objective as he sinks like a stone, invoking Al Sharpton and Jesse Jackson.
Well, I've been doing a little research of my own, Rush. Your most memorable quote, in my opinion, is this:
The most beautiful thing about a tree is what you do with it after you cut it down.
And the most amusing thing I've ever seen you do is your jittery impersonation of Michael J. Fox, set to Herbie Hancock's Rockit by The Colbert Report.
Comedy Central's online version cuts it off, possibly due to problems with recording rights or an abundance of good taste. You can see part of it at the end of Colbert's "The Word" segment. (The word is "shameless" and it is right on target.)
One last thing, Rush. I'd like to suggest an endorsement of your very own.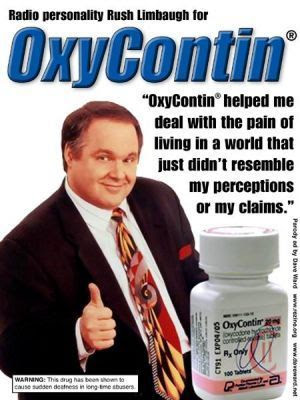 I think it's right up your alley!
Related posts:
Bill O'Reilly Cures Depression
Idiocracy Now Qualifies as a Documentary

https://magicksandwich.org/wp-content/uploads/2017/07/Magick-Sandwich-header.png
0
0
kathcom
https://magicksandwich.org/wp-content/uploads/2017/07/Magick-Sandwich-header.png
kathcom
2008-10-21 21:00:00
2020-12-18 22:23:07
Listening to Limbaugh