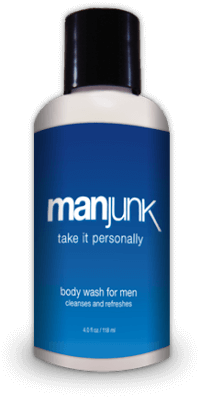 Guys, place your orders for Man Junk, a new organic crotch wash made just for your schwantz, taint and family jewels. Here's a bit of the ad copy:
How nice would it be, knowing that your significant other or one-night stand (hey, we're not perfect either) is pleasantly surprised instead of trying not to breathe through their nose? Exactly.
That gives a whole new meaning to "going there." At first, I thought it was a crazy idea. Then I thought about all of the insane things women do to stay pubically presentable, from waxing (not really Brazilian, by the way–that was a marketing ploy) to anal bleaching.
Someone's going to have to explain anal bleaching to me; if you're that close to someone's asshole, it seems to me that the time for making value judgments has passed. It's a little late to say, "Eeww, this place looks like a shithole," am I right?
So, if your partner hurls and your dog faints when downwind of your weenie, get thee some Man Junk. No more worries about fummunda.*
Girls, play Secret Santa and sneak this into his gym bag. He'll get the message that there'll be no gifts under his tree (wink wink) 'til he deals with the stink.
Man Junk–It's a product whose time has come!
*the cheese fummunda your balls, silly!

https://magicksandwich.org/wp-content/uploads/2008/10/product-1.png
400
200
kathcom
https://magicksandwich.org/wp-content/uploads/2017/07/Magick-Sandwich-header.png
kathcom
2008-10-20 20:38:00
2018-06-20 23:04:09
Scrotal Deodorant Wash: Product of the Week