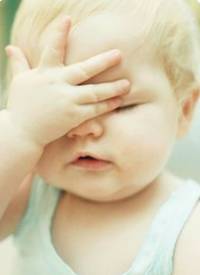 Bad Baby Names
As we wait with bated breath to learn the name Kim Kardashian and Kanye West choose for North West's little brother (because nothing else is going on in the world), let Magick Sandwich entertain you with its nearly comprehensive yet thoroughly incomprehensible list of stupid baby names and the sadists who came up with them.
Repeat Offenders
Jessica Simpson and Eric Johnson named their daughter Maxwell Drew in honor of his dad's middle name and Jessica's mom's middle name, respectively. Son Ace Knute was born 20 months later in 2013. He was named Knute after Eric's grandfather and Ace after, what? A bandage? Frehley? The Red Baron?
Gwen Stefani and Gavin Rossdale named their youngest son Apollo Bowie Flynn after their mothers' maiden names. Since their other sons, Zuma Nesta Rock and Kingston James McGregor, were named for Stefani and Rossdale's favorite places, can we assume they took a secret trip to the moon between tours? (Maybe that's what split them up–it sucked all the oxygen out of their relationship.)
Soleil Moon Frye and Jason Goldberg have a son, Lyric Sonny Roads, and two daughters, Poet Sienna Rose and Jagger Joseph Blue, names that remind us of ice cream, crayons and paint chips, not necessarily in that order.
Gwyneth Paltrow and Chris Martin named their son Moses for a song he wrote for Coldplay and daughter Apple because it sounded "lovely and clean," not because they were on a fruit cleanse or illegally downloading better music onto their iPods. If only their kids could consciously uncouple from their names.
Girls
Jay-Z and Beyoncé liked Blue Ivy, the name they chose for their daughter, so much that they tried to have it trademarked. It had already been taken by a Boston wedding planner. Isn't there a site they could have checked first? Yes–Trademark Electronic Search System (TESS), in case you ever need it.
Alicia Keys and Swiss Beatz named their daughter Egypt in honor of a life-changing trip. Thank goodness it wasn't to Bayonne.
Holly Madison, previously one of "The Girls Next Door" known for letting Hugh Hefner play with her lady parts, named her daughter (with Pasquale Rotella, not Hef) Rainbow Aurora. Warm up the stripper pole. Was Inflamed Herpes Sore already taken?
According to Mila Kunis and Ashton Kutcher, they decided to name their daughter Wyatt after coming up with it at a Lakers game. Anything would be preferable to actually watching a Lakers game.
Kristen Bell and Dax Shepard named their daughter Lincoln Bell and claimed it had nothing to do with our sixteenth president. Instead, she was named after Shepard's first car. If so, it's a good thing it wasn't a Gremlin. Then they'd have to explain their kid had nothing to do with a certain beloved movie franchise from the 1980s.
Why did Zooey Deschanel and Jacob Pechenik name their daughter Elsie Otter? Zoey explained on the Today Show, "We just really liked the name Elsie and then we both love otters. They're very sweet, and they're also smart."
Otters are vicious carnivores. Narwhals are cute. Everybody knows that.
At least Elsie is a recognizable name. Blake Anderson named his daughter Mars Ilah. Mars. Ilah. Lorenzo Lamas named his daughter Press. That isn't even a proper name, is it? Garlic, cider, permanent: those are presses.
Rob Morrow named his daughter Tu. Tu Morrow. What a dick.
Other questionable girl's names include Arlo Lemoyne Yoko (Johnny Knoxville); Romy Hero (Sam Taylor-Wood); Royal Reign (L'il Kim); Pilot Inspektor (Jason Lee); Moxie Crimefighter (Penn Jillette); Maxwell Lue (Lindsay Sloane); Autumn James (Jennifer Love Hewitt); Harper (Tiffani Amber-Thiessen); Harper Seven (Victoria Beckham); and James (Blake Lively and Ryan Reynolds).
Boys
Musicians Ciara and Future named their son Future. It's too bad his dad's given name is Nayvadius Wilburn. Otherwise, he could be called Future II and that would put us in mind of another beloved movie franchise of the 1980s.
It should come as no shock that Jenelle Evans of "16 and Pregnant" gave birth to son Jace Vahn when she was sixteen. Last year, she had another son and named him Kaiser Orion.

Kaiser joins Banjo (Rachel Griffiths); Kal-El (Nicolas Cage); Bodhi Ransom (Megan Fox and Brian Austin Green); Kase Townes (Jewel and Ty Murray); Meredith Daniel (Jay Mohr), Sundance (Kerri Walsh); Bear Blaze (Kate Winslet); Bear Blu (Alicia Silverstone); Axl Jack (Fergie); Kroy (Kim Zolciak); Zolten (Jillette again); Brooklyn, Romeo and Cruz (Beckham again).
Double Winners
Mariah Carey and Nick Cannon occupy a category unto themselves: first-timers guilty of multiple offenses after the birth of their twins. They named their girl Monroe after Mariah's idol, Marilyn Monroe. What inspired them to name their son Moroccan? He's named after the décor in one of Mariah's favorite rooms of her $9 million penthouse in New York.
It gets weirder. Cannon bragged that Mariah insisted her Madison Square Garden performance of Fantasy be played during labor, so the twins emerged to the sound of applause.
The Stupid Baby Name Award goes to…
Jeremy Sisto and Addie Layne, who named their daughter Charlie-Ballerina in 2009. They wanted to call her Charlie Kyd, but David Duchovny had already used Kyd for his son. So when their son was born in 2012, they named him Bastian Kick. They reasoned that Kick was close to Kyd and, according to Sisto, "He felt like a 'B' somehow … and we went for the B's," What, he didn't deserve a hyphen?
Congratulations,  Moms and Dads! You suck. Luckily, you can afford the therapy your children will require for the Post-Traumatic Stress Disorder they will experience after suffering through their childhoods saddled with names so stupid, fruit flies would kill themselves to avoid a lifetime of embarrassment…and they only live a few weeks.
Kids, you can change your name! If you want to mess with your parents' heads, switch to something even crazier. May we suggest Glyph, Magma, Subvert, Irony, Periodic Table or ellemenopee?
More crazy names:
Stupid Baby Names Generator, or Zuma Nesta Rock Paper Scissors: Home Edition
Stupid Baby Names, Part Duh
Still More Stupid Baby Names

https://magicksandwich.org/wp-content/uploads/2015/12/mother2Blode2Bof2Bstupd2Bbaby2Bnames-1-e1497730667698.jpg
252
200
kathcom
https://magicksandwich.org/wp-content/uploads/2017/07/Magick-Sandwich-header.png
kathcom
2015-12-08 04:06:00
2020-12-18 22:25:05
The Mother Lode of Stupid Baby Names