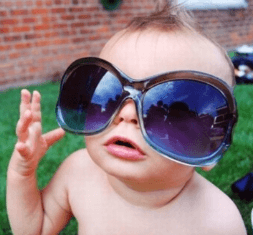 It's time for another installment of stupid baby names. Together, we'll analyze how celebrities choose baby names to accessorize themselves. It's the ultimate in lifestyle branding. Let's start with the classics:
Music and Movies
The hits keep coming for Rachel Griffiths. Clementine could be named for a 19th-century song about a drowned woman, or perhaps for the scurvy-curbing Christmas stocking stuffer. Clementine joins her five-year-old brother, Banjo. Rachel might be trying to evoke bluegrass, but all I keep hearing is the theme from Deliverance.
Boris Becker has named his son Amadeus. This may be a hint that Boris would like his son to take up music instead of tennis, or it could be a tribute to the quirky movie of the same name. Then again, it might simply reveal an abiding love of Falco.
Will Ferrell's third son is named Axel. Could Will be sending a baby-sized shout out to Axel Rose? (Does Guns'n'Roses need more cowbell?) Or is this a sly reference to Ferrell's skating moves in Blades of Glory? Can Axel's brother, Magnus, live up to the promise of his name's Latin origin, great? I'd wager he's got a better shot than Banjo.
Nicole Richie and Joel Madden named their first child Harlow Winter Kate, which is not stupid at all compared to their new baby's name. (More later.) Jean Harlow was an actress who died of renal failure at age 26. But before that, she got to make a lot of cool flicks with Clark Gable, which happens to be Kevin Nealon's son's name. Unless Kevin named him for a roofing style, I suggest he arrange some play dates for Gable with Harlow. You never know. Some stupid baby name meta-inbreeding could ensue.
Literature
Parents can prove their own intelligence with literary names for their peeing, pooping progeny. They'll function as a portable Cliff Notes of cool. We turn to Greek mythology for Anne Heche's latest issue. Atlas was forced by Zeus to hold up the world. Atlas and his half brother, Homer, will be forced to read about their mom's time as Celestia or see her on YouTube, channeling her alter ego to Barbara Walters
(with some sophomoric sound effects thrown in for good measure). Sorry, kids.
In this category, we have a stupid baby name for the underachiever: Story. Jenna Elfman is expecting her second child this spring. Hopefully, she'll aim a little higher this time. As for Story, what is it? Is it a book, a comic, a Scientology handout? It could refer to anything. No pressure, kid! Just smoke some bud and relax!
Geography and Nature
Place names have just been done to death, people. If you must, use my Stupid Baby Name Generator, but be warned! When kid number 19 from Michelle and Jim Bob (Jim Bob!) Duggar of TLC's 19 Kids and Counting is named Josie Brooklyn, place names have officially jumped the shark. Sorry, Josie! Remember, it's easy to change your name. Satchel Allen did it and you can, too. You can talk about it in therapy, which hopefully you'll be able to afford once your mother runs out of eggs.
Naked Chef Jamie Oliver is growing a human garden with Poppy, Daisy and new daughter Petal Blossom Rainbow. Granted, his wife's name is Jools, but that's no excuse. Do you want your daughter to be rolling around in the mud with some dirty hippie at a music festival? Is that what you're wishing on her?
Mr. Oliver is just not famous enough to nab the stupid celebrity baby naming prize: this goes to Nicole Richie for naming her son Sparrow James Midnight Madden. Won't the kid collapse under the weight of all those names? Is Sparrow an homage to Pirates of the Caribbean? Is James Midnight his porn name? And wouldn't it be strange if a boy named Sparrow grew up to be hugely fat? (Not that I'm wishing that on him or anything…that would be wrong.) Nicole, your prize awaits: the first three seasons of The Simple Life.
Finally, from the That's Unfortunate! department comes this announcement, run in Entertainment Weekly:
Grammy-winning album producer Rodney Jerkins, 32, and his wife, singer Joy Enriquez…greeted a daughter, Heavenly Joy, on Nov. 17 in L.A.
That's right. Heavenly Joy Jerkins. Hey, at least it's a girl!
More stupidity:
Stupid Baby? Sue Disney
Stupid Baby Name Generator
Stupid Baby Names, Part Duh
The Mother Lode of Stupid Baby Names

https://magicksandwich.org/wp-content/uploads/2010/02/stupidbabyimage-1-1.png
235
253
kathcom
https://magicksandwich.org/wp-content/uploads/2017/07/Magick-Sandwich-header.png
kathcom
2010-02-22 17:20:00
2018-05-07 23:44:50
Still More Stupid Baby Names