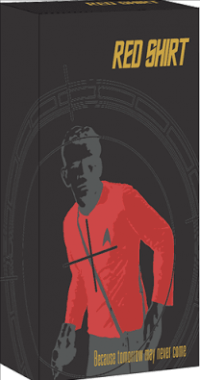 Be a Trekkie or just smell like one with this new cologne from Genki Wear. (Arguing that the correct term is Trekker does not make you cool.)
Other scents in the series include Tiberius to help one emulate the je ne sais quois of a certain starship captain who's popular with all manner of space booty.
For the ladies, there is Pon Farr, named for the famed estrus cycle in which Vulcans must mate or die. So apply with caution before a night on the town. But remember, Pon Farr only happens every seven years. Be careful what you wish for. And be patient.
If your girlfriend gives you Red Shirt, she may be getting ready to push you out the airlock. Its tagline reads: Because tomorrow may never come. You may be an extra in your own life. Know this, you will not become a series regular.
Whichever scent you choose, snap it up in a hurry. You haven't much time to douse yourself, covering the musty scent of your parents' basement, and get to the nearest theater.
https://magicksandwich.org/wp-content/uploads/2009/05/redshirt-1-e1499636477316.png
380
200
kathcom
https://magicksandwich.org/wp-content/uploads/2017/07/Magick-Sandwich-header.png
kathcom
2009-05-07 14:32:00
2018-06-20 22:54:34
Scent of a Yeoman