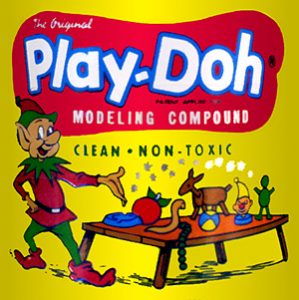 September 16 is World Play-Doh Day. After writing about it on Worldwide Weird Holidays, I found that some of the prose was a bit inappropriate for that site—in other words, perfect for Magick Sandwich. Call it WWWH After Dark, if you will. (I'm pretty sure you won't.)
Fun Facts about Play-Doh: The compound was created in 1933 to clean coal soot off wallpaper. The inventor ripped off the formula homemakers and servants had used for decades.
By 1956, homes didn't use coal anymore. No soot, no need for the cleaner. The company was tanking when the sister-in-law of an employee suggested repurposing it as a toy and came up with the name. Of course, she received no credit or payment.
The employee convinced Bob Keeshan, a.k.a. Captain Kangaroo, to feature it on his show once a week in exchange for a percentage of the sales. Similar to payola schemes run by radio disc jockeys, this was truly a case of "pay to play" or "pay to play-doh," if you're feeling punny.
Bonus Fun Fact: A tell-all book by longtime stage manager Daniel B. Morgan alleges that Keeshan liked to expose himself before the show, sticking a pencil under his little captain and waving it at Hugh "Lumpy" Brannum, who played Mr. Green Jeans. Per Morgan:
"Then the Captain would come through the door, greet everyone, and hang the keys on the key hook. On with the show! So now, at the end of the program (which probably included credits), Bob was backstage reading the final voice-over…(and) during Bob's final read, Lumpy pulled out his penis and began to pee on Bob's leg."
Captain Kangaroo liked to pull out his dick before greeting his fan base of millions of small children. Doesn't everybody? (I need to Purell my childhood memories. Can someone find out if that's possible?)
*****
Do you long for the simple charms of shaping and smushing, but can't figure out how to integrate Play-Doh into your daily work routine without attracting undue attention? How awkward would a trip to Human Resources be? Even the most exhaustive employee handbook has no listing for "Play-Doh, abuse of." There are no talking points, no rehab to recommend.
On second thought, there could be a highly-specialized treatment center somewhere in, say, Malibu. Right now, someone is getting equine therapy to break the cycle of Play-Doh addiction. In case you're unfamiliar with the modality, the Equine Psychotherapy website explains: "It is the discipline of using horses as a means to provide metaphoric experiences in order to promote emotional growth." It sounds a lot like getting a horse to babysit so the human can go grab a cocktail. (Horse-sit: say it three times fast.)
Now you can avoid the humiliation of being narced on by coworkers—and the deceptively pleasant-sounding shame spiral which follows—while enjoying the essence of Play-Doh every moment of every day with no risk of sanctions. Demeter Fragrance Library, the maker of such classic scents as Lobster and Funeral Home, offers Play–Doh cologne.
Don't be surprised if the scent inspires an admirer to pull on your pigtails. (Apparently, little boys used to do that to little girls they liked, but we can't find anyone who's seen or done it.) Guys, it's unisex, so if you spritz it on, don't be surprised if someone pulls on your man-bun.
On the subject of male grooming, why is practiced, casual vanity so often inversely proportional to a man's personal hygiene habits? I'm thinking of a 1980s TV star who claims to have no interest in fashion but festoons himself every day with at least ten necklaces and as many rings as his fingers can hold. (We have no problem with male adornment, just hypocrisy.) Coincidentally, he looks like he hasn't taken a shower since the 1980s. Surely there's a circus nearby where the elephants can wait a moment so he can be hosed down.
Back to the hairdo: A man-bun says, "I write poetry, I love to cuddle, I'm sensitive and attentive and I smell like a week-old, bloated goat carcass." Happy World Play-Doh Day, everybody!

https://magicksandwich.org/wp-content/uploads/2016/09/Magick-Sandwich-play-doh-e1497730108657.jpg
201
200
kathcom
https://magicksandwich.org/wp-content/uploads/2017/07/Magick-Sandwich-header.png
kathcom
2016-09-16 14:33:00
2017-09-07 14:11:42
Happy World Play-Doh Day