It's that time of year again, when you're under a mountain of debt and Christmas calls on you to open your heart and your coffers one more time. Let Magick Sandwich help you dazzle your family and friends with the best, most thoughtful gifts of all. Then you can go back to dreaming of a bonus that will bail you out when your bills come due.
For your childless buddy who needs some days off: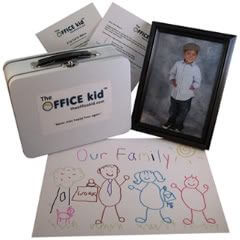 "Businesses lose up to $4 billion annually to employee absenteeism due to childcare problems." — The Welfare-to-Work Partnership
Is it fair that the rest of us should have to pick up the slack? Thanks to the makers of The Office Kid, the answer is a resounding NO! They say, "You'll soon find that exploiting the joys of parenthood has never been easier. With one simple kit, you can do as your coworkers do–make excuses, miss work and blame it all on your kid."
For your fashion-obsessed tween: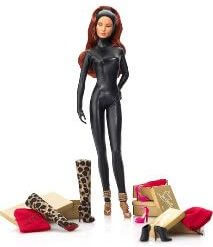 Cobbler to the stars Christian Louboutin has collaborated with Barbie to create this limited edition Cat Burglar Barbie. She comes with a collection of 4 red-soled Louboutins, including ankle boots, peep-toes and knee-high boots. Barbie comes with a stand and is presented in a brown designer-style box with a copy of Christian and Barbie's travel journal.
At $150, this is much cheaper than a real pair of Louboutin's sadistic five inch heels. Unfortunately, Cat Burglar Barbie is sold out at the moment. (I, for one, am dying to read her travel journal!) You can sign up on net-a-porter to find out when she's back in stock. And just to get a jump on next year's gift, maybe you'd better put the stripper pole on layaway.
For the kids' next sleepover: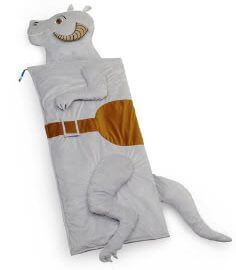 The
Tauntaun sleeping bag
is a great way to introduce the little ones to the great Star Wars series. Oh, who are we kidding? You want one for yourself! And the folks over at ThinkGeek know it because they've made it adult size.
The inside is printed to look like intestines and it comes with a lightsaber zipper pull so you can reenact Han Solo cutting it open—it's dead already so back off, PETA people—to save Luke Skywalker from freezing to death on the planet Hoth. Have "Luke" rip a Silent But Deadly fart so you can utter Han's famous line: "I thought they…smelled bad…on the outside."
For the friend fed up with the holiday: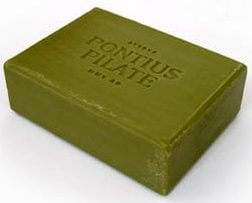 This big bar of
Pontius Pilate soap
by Atypyk should have him washing his hands straight through to Easter.
Happy Holidays, everybody!
More gift ideas:
3 Great Gifts for Lonely Friends
Great Gifts for Depressed Friends!

https://magicksandwich.org/wp-content/uploads/2009/12/tauntaunsleepingbag-e1500237008870.jpg
270
236
kathcom
https://magicksandwich.org/wp-content/uploads/2017/07/Magick-Sandwich-header.png
kathcom
2009-12-08 17:55:00
2017-07-16 20:58:41
Great Gifts for Everyone on Your List!