Gee, has it been a whole year since the New York Bird Club celebrated National Pigeon Day in Central Park? Where does the time go? And why is this holiday, now in its fourth year, still unrecognized by the U.S. government?
June 13, 2011 is the 92nd anniversary of the death of World War I hero Cher Ami. Bird lovers gather to commemorate his bravery and call attention to the plight of pigeons everywhere. That is, except for last year, when it conflicted with the Puerto Rican Day parade. The city showed blatant anti-avianism when granting permits. Thankfully, the date falls on a Monday this year. I'm sure, in any case, that Cher wouldn't mind.
Ami, a carrier pigeon who valiantly flew on after being shot and suffering a partially severed limb, delivered vital military intelligence to the U.S Army in France in October of 1918. He returned to the U.S. before succumbing to his injuries several months later. He was posthumously awarded the French Croix de Guerre, a medal I'm sure its human recipients were honored to share with a bird. Ami has the singular distinction of also being stuffed and mounted. He forever stands at attention in the National Museum of American History in Washington, D.C.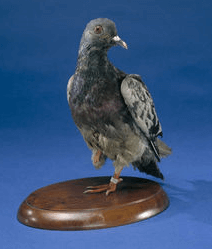 I like this pigeon. He acted heroically, unless you require self-awareness to make the decision to go above and beyond the call of duty. Filling a war hero's body with sawdust must be a high point in the annals of taxidermy but it seems a little callous. This almost overcomes my desire to write about the silliness of creating a holiday to promote pigeon awareness. Almost.
If we accept this precedent, where will it end? Perhaps there should be an official day to make people aware of the dangers of dryer lint catching fire or allowing your kids to eat too much grout. By the way, how much grout is too much? I think just enough to push the marbles and metal shavings through. Thoughts?
Anna Dove, née Augusta Kugelmas, founder of National Pigeon Day, in an interview with the New York Times, likened her efforts on behalf of pigeons to the struggle of Martin Luther King for civil rights. At times, her protests have been less than peaceful. In 2003, she threw birdseed in the face of a Parks Department employee who tried to enforce sanitation restrictions against throwing feed on the ground.
Joanna Tierno, moderator of a pigeon Internet group, compared the birds to Holocaust victims when City Council member James Oddo proposed using a birth control medication called Ovo Control P to reduce the amount of pigeon excrement corroding the infrastructure of the Staten Island Ferry.
Innolytics, the medication's manufacturer, was a 2010 recipient of The Humane Society of the United States Corporate Progress Award, which recognizes companies that have made demonstrable progress in reducing animal suffering and advancing animal welfare. The ASPCA and PETA also support humane alternatives to lethal bird control. In fact, PETA and the Pigeon Control Advisory Service (PiCAS), a British non-profit organization, actively discourage pigeon feeding.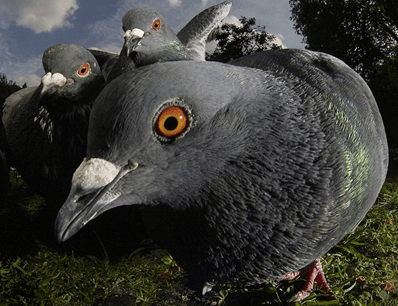 In Andrew Blechman's book Pigeons, The Fascinating Saga of the World's Most Revered and Reviled Bird, Guy Merchant, PiCAS founder, states, "A small number of persistent and deliberate feeders are wholly responsible for the pigeon problem throughout the world. They are the pigeon problem. Pigeons overbreed when people overfeed." Although compulsive feeders see themselves as charitable, Guy thinks them selfish. It's not enough to simply feed the pigeons, he says. All that does is burden everyone else with cleaning up the resulting mess.
PETA, on its website, has this to say on the subject.
There are people who buy heavy bags of bird seed and walk around New York City, London, and other cities dropping huge piles of it on to public sidewalks and in parks. Naturally, pigeons flock there to eat, and then breed. These people think they are helping, but in reality, they are doing more harm than good….

Have you ever considered asking your local park or city to put up signs discouraging the feeding of pigeons? Have you supported or opposed a local ordinance that would establish mandatory guidelines for feral cat colony management? Can we-who care about and advocate for animals-stop letting irrational impulses dictate our actions toward them?
I couldn't have said it better myself.
Evidence I tried to say it better myself:
June 13 is National Pigeon Day: Ask Your Boss for the Day Off
National Pigeon Day. Again. I'm Not Kidding.
National Pigeon Day 2010: Part One
National Pigeon Day 2010: Part Two

https://magicksandwich.org/wp-content/uploads/2010/06/pigeonsonpilgrimhill-1.jpg
350
490
kathcom
https://magicksandwich.org/wp-content/uploads/2017/07/Magick-Sandwich-header.png
kathcom
2011-06-13 03:12:00
2017-07-14 04:50:19
Merde Alors! National Pigeon Day 2011