With the BP spill dumping gallons of oil onto our shores, Rand Paul stating (hypothetically) that private businesses should legally be able to discriminate if they feel like it, and Arizona requiring I.D. from anyone with a tan, you can see why Magick Sandwich is experiencing a dearth of creativity. It's just hard to find anything funny to write about these days.
While I mourn the impending lack of Gulf shrimp–because this is all about me—I will try to satisfy you with the cocktail sauce of my mind in this installment of Sandwich Fixins.
*****
This is how I imagine a true patriot who stands against big government would react to a service being rammed down his throat.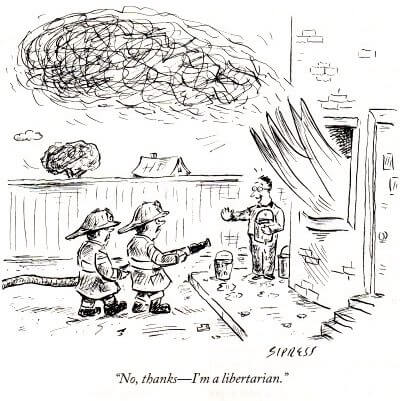 When he rebuilds that house, he'll need extra room for his aging parents who refuse to receive Medicare or Social Security because they won't live under the lash of those evil liberal overseers, dagnabbit!
*****
BleachBlack.com has released a semen-colored nail polish called Jizz. For more sperm-related trends, check out my post,
Gross Anatomy
. In case you're curious, it also sells another polish called Dickweed. It's a bright metallic blue-green, which surprised me. But then again, I'm not sure what color I expected.
*****
Paramount is planning a movie based on the Magic 8 Ball Game. Will I see it? Reply hazy. Ask again later.
*****
A shoe manufacturer named TOMS makes slip-on sneakers that are a huge hit with celebrities. For every pair sold, another pair is given to a child in need. I know this is a really nice thing, but what if that child really needs food? I picture starving kids in trendy footwear.
Is that wrong?
*****
Lauren Conrad
, 24, complains about having cellulite in May's issue of Glamour. Meanwhile, the woman gracing the May cover of Fitness magazine says, "I have hips! I'm never going to be the thinnest actress, and don't want to be." Who is this zaftig beauty?
Kristin Davis
. She's proud of her curves? What curves? She's one thin layer of flesh away from being a human xylophone.
*****
While we're on the subject of celebrities, can we please stop talking about
Zoe Saldana
's incredible "performance" in
Avatar
? I don't care how realistic the
motion capture
was: she was running around in a body stocking, hissing her lines. Should we ask if she did her own stunts, too?
*****
Finally, a study published by the
Personality and Social Psychology Bulletin
 reveals that we are all actually uglier than we think. If that's so, then haven't we lowered the bar for attractiveness? In which case…we all look good again! I love my logic.
More fixins:

https://magicksandwich.org/wp-content/uploads/2010/05/Libertariancartoon001-1-1-e1500082578308.jpg
401
404
kathcom
https://magicksandwich.org/wp-content/uploads/2017/07/Magick-Sandwich-header.png
kathcom
2010-05-26 22:00:00
2018-01-28 04:29:28
Sandwich Fixins #8