Elton John, Wedding Whore, Sings at Rush Limbaugh's Wedding
Seriously, are you shitting me? Elton John sang at Rush Limbaugh's wedding this past weekend? Could this be the seventh sign of the apocalypse?
I wrote about Sir John almost exactly one year ago in my post, Elton John, Funeral Whore, to Sing at Michael Jackson's Service. Even I thought I was being a little harsh. I should never have doubted myself. Once a beloved musician, John has become little more than a bloated gay mascot. Is his ubiquity at celebrity weddings and funerals a last grasp at relevance? Or just a dash for cash?
Rush Limbaugh, bloated Republican mascot, is a staunch critic of homosexuality. He's no fan of California's music industry, judging from this quip: "The difference between Los Angeles and yogurt is that yogurt comes with less fruit." Of course, that wouldn't apply to Elton John, who's from across the pond. But this statement might:  "When a gay person turns his back on you, it is anything but an insult; it's an invitation."
Hmm, what would Freud have said about that? Does Rush secretly long to be a rump rustler? It certainly seems like he's threatened by the temptation of a male tush. I can't imagine any man (or woman, for that matter) being attracted to Limbaugh, puffed up like a beached whale baking in the sun and emitting the foul stench of decay.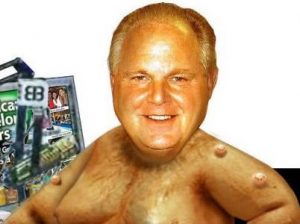 Let's leave such speculation to the experts for now. Rush, gay hater, paid Elton, gay star, one million dollars to sing at his wedding. Since Elton is worth close to quarter of a billion dollars, I assume he will donate the money to an AIDS charity. He has contributed millions to AIDS-related causes. Unfortunately, that does not keep Sir John from being a big, sloppy media whore.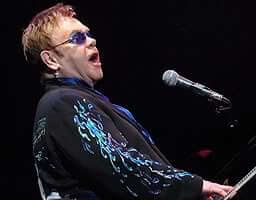 Then again, I would hope he'd cover Rush Limbaugh's funeral for free. I'm just not sure what he'll substitute for Candle in the Wind. That seems to be his go-to tune. He's tweaked it for everyone from Princess Di to Michael Jackson.
It seems to me
that you lived your life
like a cancer in the wind…
It has a certain ring to it, don't you think? What would you have him sing?
More Limbaugh:

https://magicksandwich.org/wp-content/uploads/2017/07/Magick-Sandwich-header.png
0
0
kathcom
https://magicksandwich.org/wp-content/uploads/2017/07/Magick-Sandwich-header.png
kathcom
2010-06-08 21:50:00
2020-12-18 22:23:04
Elton John, Wedding Whore, Sings at Rush Limbaugh's Wedding