File this one under You Waited Over a Whole Year to Blog and You Did THIS? As a self-involved person—and, really, we all are unless we're in a dissociative state—I thought, wow, my life is so interesting! Why don't I share a window into my diseased psyche to show you all the muy importante things I've been doing instead of blogging. (ICE, if you're reading this, the Spanish was just an affectation. You don't need to come to my house.)
Last night, while watching Brian Williams interview Edward Snowden, I came to some conclusions about my life, but not what you might think. I had TiVoed it so I could pause Snowden's frightening revelations about constant technological surveillance to mess around on the internet. I like to work against my self-awareness at times. Keeps it on its toes.
First up, I happened upon this tweet by Geraldo Rivera regarding Brett Kavanaugh's playful indecent exposure as a Yale student. That's a Class B misdemeanor in CT that's punishable by up to a year in prison, by the way, but I'm guessing Geraldo would think I'm just being a prissy bitch. I'll put it here, although I've never seen anyone pad a post with Twitter dross before. I'm a pioneer, I guess.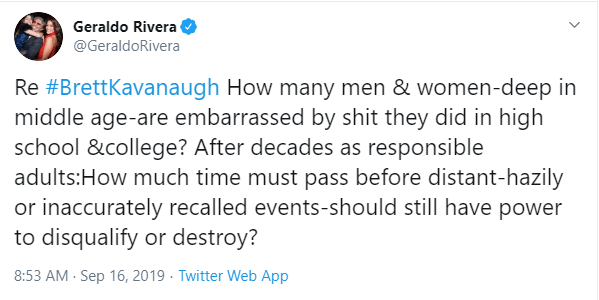 Say what you want about Twitter. (As if I could stop you.) It's one of those egalitarian places where everyone's opinion counts so no one's counts. Of course, I had to put in my two cents. After midnight, it's really only a ha'penny worth. (By the way, my Twitter handle is the name of the T-shirt company I started this year, which has made me fabulously wealthy tens of sales.)

Being a night owl neither wit nor wisdom confers. Today, on Instagram, I added details of the CT law mentioned above and recommended that Geraldo ponder whether having an unwelcome dick thrust in his face (or one of his daughter's faces) might cause him upset. My God, don't you wish you could hang out with me all the time? Surely my bon mots (French now, pulling out all the stops!) should be collected and preserved in the Smithsonian or in a time capsule so when aliens land to see the blasted hellscape of Earth, they'll know the extinction of the human race was no big loss.
Anyway, à propos of nothing—note to self: great title for my memoir—I went on Amazon. (The MSNBC interview was over so I could get back to important things.) Someone identifying himself as Ben K. had taken umbrage at the use of fragrance in a natural deodorant. I'd seen his review before and had emailed the company to find out what ingredients fall under their rubric of fragrance.
The company's answer? Okay stuff, with just a hint of obfuscation that lets me know there's some minor thing in it that would be questionable to a real Cassandra who drinks alcohol, smokes pot, or just, you know, lives in the world but thinks perfume presents a clear and present danger.
The email also stated there is another, fragrance-free version for sale as well. So I copied the info and clicked on the review to paste it and leave a comment. But someone had beaten me to it. Ben K. had responded to that person that the version on the page is the fragrance-free version. I scanned the product page, ready to pounce on Ben K. for his damnable lie. Alas, I found that Ben K. was correct. So, ever forthright,  I acknowledged that. But then, it got weird.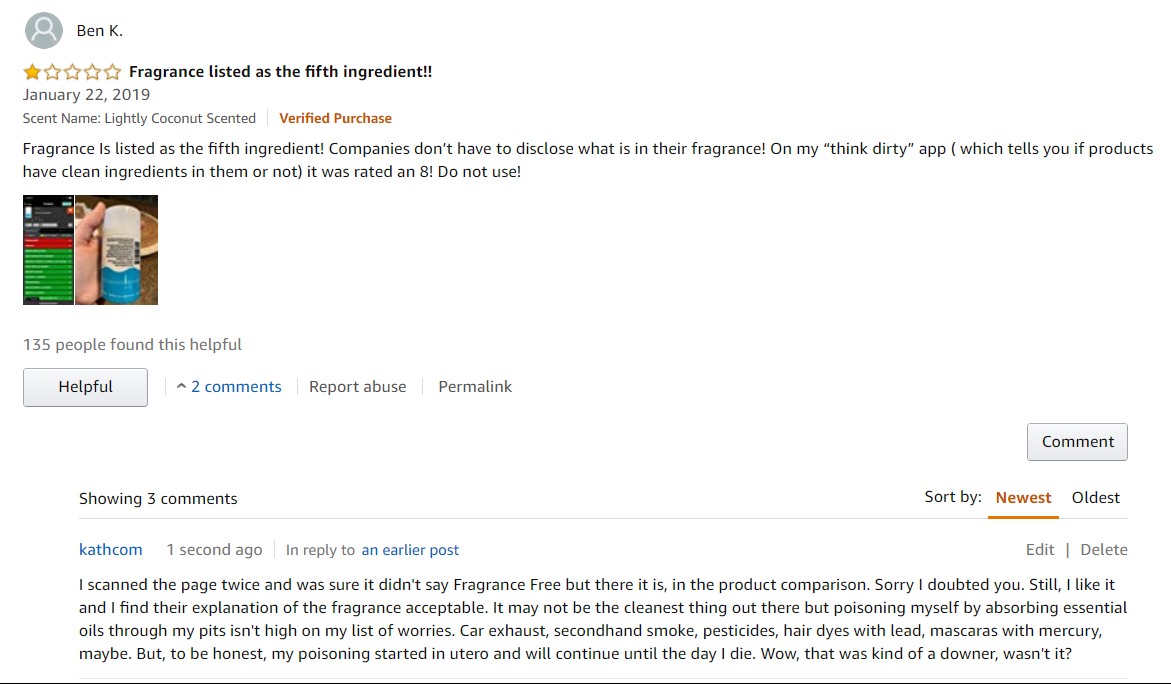 I'd classify this as an existential Amazon review or, perhaps, an Amazon review for depressives. It captures the absurdity of a search for meaning that elevates strangers' opinions about drain cleaner, shampoo, and super glue to a position of staggering importance, signified by the amount of time I spend poring over them as if they contain the secrets of the universe. I'm not the only one, judging by the fact that "135 people found this review helpful."
I've learned a valuable lesson, which justifies my time-wasting but possibly not the time you've wasted reading about it. (My apologies.) I should never tweet late at night and I should always write Amazon reviews late at night.
There was a third benefit, too. As I attempted to drift off to sleep, always difficult after the exhilaration of doing absolutely nothing of substance and having a great time not doing it, I had a flash of insight. I actually sat up and made a note of it on my phone so it wouldn't be lost in the ether of fitful slumber. It is my new mantra.
Satisfied with the inspirational message served up by my helpful brain, I drifted off to happy sleep, then got up this morning and made it into a T-shirt.
You're welcome.

https://magicksandwich.org/wp-content/uploads/2008/07/Sandwichwithhands.png
251
250
kathcom
https://magicksandwich.org/wp-content/uploads/2017/07/Magick-Sandwich-header.png
kathcom
2019-09-17 18:13:24
2019-09-18 16:25:48
My Busy Life